HUMAN RIGHTS ABUSES AND MURDERS CAN BE STOPPED IN KIGEZI SUB-REGION THROUGH SENSITISATION & HUMAN RIGHTS EDUCATION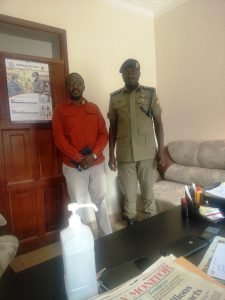 LOSCO today paid a courtesy visit to the Kigezi Regional Police Commander; SSP Ibrahim Saiga for a discussion on the rising cases of murders related to gender based violence. During the visit, the Commander agreed and clearly explained that property inheritance and Land related disputes are some of the leading causes of continuous killings in the region, with Rukungiri district topping the chats where in the Month of May alone, 15 lives have been lost. In appreciation of the LOSCO Saiga requested that we actively sensitize both men and women since they are equally affected by domestic violence.
Kigezi presents a unique position where both men and women are equally involved compared to other regions where women are mostly affected and this calls for community sensitisation and Human rights Education.
In most cases, the people who bought the land are not in the picture when the atrocities are being committed especially where the sons and daughters of the deceased are involved. In other cases, the limited job opportunities cause men to be desperate and end up selling the produce that women (their wives) pay steeply with their seat to have for food to their children and this always does not go well with both as Kigezi has continued to witness a steep rise in such challenges.
Women also contribute to economies through their work in caring for families. However, this is often not acknowledged or reflected in national economies, despite lobbying by women's organisations.
Both push and pull factors have contributed to women increasingly taking up employment. Women and girls in particular suffer from inequitable land rights and experience restricted access to resources and inheritance. Boys and men can also be denied access, such as when the first son inherits more than the second or third son. Rights to resources may also affect ability to access other resources or services. For example, a woman's lack of land ownership or rights may inhibit her ability to access credit, as land is often used as collateral. Achieving more equitable access to resources offers significant opportunities both for economic growth and for women's empowerment