ON THE STATE OF HUMAN RIGHTS IN PRISONS SERVICE – MEETING WITH REGIONAL PRISONS COMMANDER KIGEZI WOULD DO
This morning, I paid a visit to the Regional Prisons Commander – Kigezi Region SSP Festo Sambya and among the issues discussed are ways and means of collaboration to promote Human Rights in the Prisons Service. One of the ways is through building the capacity of Officers through Human Rights Education and venturing into community service with a view of deconstructing the narrative that exists between communities and prisons.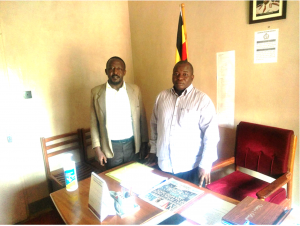 "We would want to establish working relationships with other Human Rights Activists so that our services are not perceived from the wrong angle and if all our OCs in the region are taken through a Human Rights training, it would be a welcome initiative for us and the country as a whole. No one can stand alone". SSP Festo Sambya RPC Kigezi Region
Issues provided for in Article 44 of Ugandan Constitution 1995 several Human Rights issues are continuously addressed inappropriately. About Prohibition of derogation from particular human rights and freedoms. Whereby Notwithstanding anything in this Constitution, there shall be no derogation from the enjoyment of the following rights and freedoms—
(a) freedom from torture and cruel, inhuman or degrading treatment or punishment;
(b) freedom from slavery or servitude;
(c) the right to fair hearing;
(d) the right to an order of habeas corpus.
This in the Prisons Service needs to be well versed with and need to be handled as a matter of urgency.
LOSCO has a Mandate to work in partnership with all Government Agencies, Departments and Agencies for improvement of Human Rights Situation in the Region  and the country for Development and Peaceful Co-existence.