PROMOTING ACCESSIBILITY AND ACCEPTABILITY OF COVID-19 VACCINES
                                                    NARRATIVE REPORT FOR A CAMPAIGN ON SOCIAL ACCOUNTABILITY AND GOVERNANCE IN HEALTH DURING COVID-19 PANDEMIC: Improving accessibility and acceptability of COVID-19 Vaccines and SRHR Services and Information.
1.0. Introduction about the Partnership
We are pleased that Local Sustainable Communities Organisation (LOSCO) has been part of a number of CEHURD,s engagements especially the work on addressing governance and social accountability issues during COVID-19 Pandemic among other health and human rights issues.
We welcome the proposed partnership of a campaign on social accountability and governance in health during COVID-19 pandemic aimed at improving accessibility and acceptability of COVID -19 vaccines, Sexual, Reproductive Health and Rights (SRHR) services, and information.
Reference to LOSCO's formal request dated 21st October, 2021 was confirmed by CEHURD to make a financial contribution of UGX. 10,310,000 and provide technical support during the campaign. The committed fund was transferred to LOSCO bank account number. The funds supported the campaign on social accountability and governance in relation to COVID-19 vaccines in the districts of Kabale, Kisoro, Kanungu, Rubanda, Rukiga, Ntungamo, and Rukungiri. This support covered a period of one month from 8th November to 8th December 2021.
This support was conditional on its being used to achieve the purpose for which it was been awarded.
To this, LOSCO agreed to take up the award for the purposes of doing campaign on social justice in heath through doing a dialogue and a radio talk show on social accountability and governance in health during COVID -19 pandemic in Kigezi sub region.
LOSCO in partnership with CEHURD under the COPASAH East and Southern Africa Regional Hub organised a Dialogue on Governance and Social Accountability in Health during COVID-19 Pandemic intended to generate consensus on social accountability and governance aspects of health and human rights. There was also a Radio talk show prior to a dialogue on Governance and Health service delivery in the gov't health units during the pandemic on Voice of Kigezi 89.5 FM
The discussions focused on improving accessibility and acceptability of COVID-19 vaccines and SRHR information & services during the COVID-19 Pandemic
2.0. Background
2.1. Campaign goal
"Improving accessibility and acceptability of COVID-19 Vaccines and SRHR services and information"
2.2. Campaign objectives
1)         To raise awareness and promote vaccine equity among the populations through social mobilization and accountability by citizens and good governance in health that are rights based approaches.
2)         To increase and sustain engagement and accountability between CSO leaders, political leaders, government health officials and Human Rights Defenders at the Local and National levels.
3.0. Activities implemented
3.1. Activity 1
A Radio Talk show on issues of governance and health service delivery in the government Health Units during COVID 19 Pandemic which was conducted on the 28th November 2021.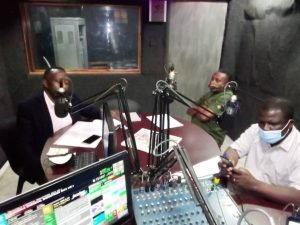 This talk show took place on one of the wide coverage and popular Radios in Kigezi (Voice of Kigezi 89.5 FM) with a Target Audience of over 3 million Listeners in Western Uganda hosting the District Health Officer (DHO) Dr. Besigensi Alfred and Mr. Sam Arinaitwe the Chairperson central division of Kabale municipality. The show was moderated By the Executive Director LOSCO Mr. Taremwa Albert and hosted by Mr. Emmanuel Arinaitwe.
The issues discussed by the panelists covered a wide range of issues where;
The DHO  highlighted the impact COVID-19 had had on Kabale saying over 130 deaths by COVID 19 had occurred in Kabale citing that currently there are twenty two admissions and thirty two are on home based care. .He also noted that there were issues of enforcement which were concerns to human rights, he went ahead to note that the performance on maternal health had been affected reducing from 81% to 74% as well as the reduction in antenatal services reduced due to limited transportation under the lockdown periods There was also an increase in registered mortality rates.
Teenage pregnancies increased at an alarming rate hitting a maximum high of 2,628 in Kabale alone as of 9th October 2021, currently in Kigezi the numbers have shot to well over 7,000 teenage pregnancies in the last two years.
However, the demand for the vaccines increased with less supply but currently Kabale has received over 120,000 doses to cover the population over 15 years and above. The ministry of health supported the launch of massive vaccination in Kabale on 25th November 2021, which has greatly reduced the distance to, and from the vaccination centres since now every parish has the vaccine at the health centres. He appreciated LOSCO in partnership with CEHURD and COPASAH for the campaign that is very timely and urged the public to turn up for vaccination since the vaccine is safe and also warned that people who always shown the vaccination drives always end up paying heavily and tights called all the people to go the centres for the vaccine. Access to the Vaccine is now easy and people should take the advantage.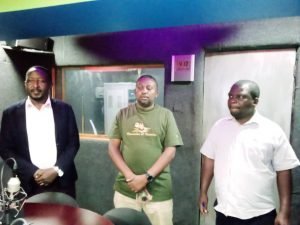 In the same way, the chairperson LC 3 attributed the growth and development of the country to the existence of health population saying there is no country that can vaccinate her population to kill them and so the public should develop a positive attitude to the efforts invested by the government. There is always a lot of vaccination drives the government does and there are many channels that circulate wrong information about the intensions and the extension of the service delivery by the government.
LOSCO was appreciated for their efforts on mindset change concerning HIV/AIDS and teenage pregnancies, which is essential for the preservation of current and future generations. Positive parenting, empowerment capacity building skills development are among the activities that LOSCO does to engage communities and youth inclusive for purposes of retooling and rebuilding the youth especially and the government so much appreciate the work LOSCO is doing in promoting social justice and human rights.
Kabale has so far vaccinated over 50,000 people with over 4000 teachers reached and this will continue to be done for the good of our nation and the accessibility and acceptability has been eased and since the launch an average of 18000 people above 15 years are vaccinated per day. Since the requirement for stance, those without IDs especially students can take the student IDs or the LC 1 Chairperson Letter and their details would be acquired after.
The Output for the activity was that the Radio talk show was conducted and a report produced.
This activity had a lasting impact on the attitudes of the Listeners from the calls received and a commitment by the Government Health Units to improve on the service delivery as well as timely interventions. In addition, the Parents were challenged to do their roles as parents both to the effect of their children's behavior and the development of the nation.
3.2. Activity 2
A regional Dialogue that was conducted on the 29th November 2021 at White Horse Inn and was Hybrid in Nature aimed at;
·         Improved social accountability and governance in health between the Rights Holders and Duty Bearers.
·         Improved accessibility and acceptability of COVID 19 vaccines among the people of Kigezi.
A Half-day digital dialogue (Webinar) was held to discuss emerging issues on governance and social accountability during the COVID 19 Pandemic, especially vaccine equity.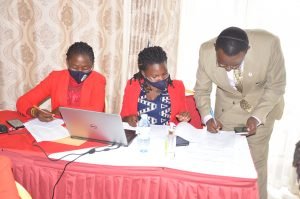 The theme of the dialogue was, "Improving accessibility and acceptability of COVID-19 Vaccines and SRHR services and information" targeting over 100 participants (virtually and physically). The dialogue included a panel of representatives from government, specifically health and education sectors, district leadership and Civil Society. These were DR. BESIGENSI ALFRED, DHO – KABALE DISTRICT, MS. FLORENCE TUMUHEIRWE EXECUTIVE DIRECTOR Kigezi Women In Development, DR. GILBERT MATEEKA -MEDICAL SUPRETENDANT RUGARAMA HOSPITAL, MS. PEACE KICONCO CDO – NORTHERN DIVISION and the KEY NOTE Speaker DR, BENJAMIN MAYANJA – PROPRIATOR/ RETIRED MEDICAL OFFICER – HIGHWAY CLINIC – KABALE MUNICIPALITY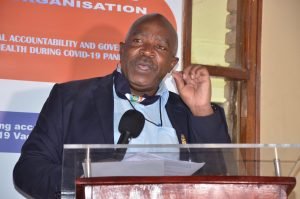 It is paramount to employ a stretch of logic, which for starters, answers the question of the necessity of COVID-19 vaccination, SRHR services, information, and any other relevant matter thematic to acceptability.
Unhelpful criticisms have been mooted and ironically, the elites are the ones badmouthing the noble errand of vaccination against COVID-19. It is extremely important to add that those "ladies and gentlemen" are now the ones that are succumbing to the very COVID -19 they are making others not to vaccinate against and they are dying one after another in close succession at an alarming rate. Some repent at their death beds profusely asking for pardon over their frantic efforts against vaccination. Africans many of whom are known to be the copycats, coping everything western and consider themselves to be many notches
above the ordinary; they have now copied the vaccination hesitancy therefrom and are likely to import more COVID-19 than can be handled now in new areas forgetting that their icons in the western world have their own cobwebs in their lives.
On the other aside on improving the accessibility to vaccines can be informed by certain potential flash points and dynamics, which have the capacity to shoot down the otherwise good intensions of the vaccination drive.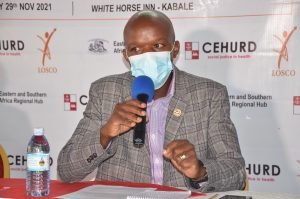 Emerging disease like COVID when they emerge are new and the initial responses are few and that is why there is limited research on this thus different communities responding differently. It is for short time much as there was lockdown, we need to come out with more sustainability and acceptability .The following are the challenges that were mostly faced during the COVID 19 pandemic,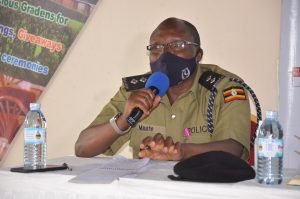 On the other hand, on improving the acceptability of the COVID -19, there must be participation of the corporates organisation. It dispels mistrust of the government accountability and it becomes vital for example giving out donations and thus increases also the interest in vaccination process.
In the prevention, you are aware we have been working in order with other stakeholders in prevention and enforcement of laws to the citizens. COVID has affected people economically and that is why we emphasize sensitisation, if everybody knows the importance of being affected it is better than fighting people. Radios, Medias were used in the prevention of COVID 19 and vaccines. It is the role of the government to improve on the welfare of the people and we should also play individual roles, we should know that the life is personal to avoid social circumstances and weather vaccinated or not keep adhering to the rules and regulations. It is necessary to behave responsibly, helpfully and correctively and should respect local leaders. If all the people were vaccinated whether or not vaccinated had adhered to the rules and regulations Kigezi would not have been identified as the most affected part in Uganda with COVID-19. To those who were driving over time were arrested because of curfew and if anyone was, found doing crimes should report and come up with evidence that is why police do not want to work in isolation as
well as individuals but a responsibility for all.
The reasons for the increased teenage pregnancies because of limited SRHR information include among others,
Closure of schools and churches. They used to get the information from the senior women at school'
Unawareness of parents to be home for two years. Children are now seen as a burden in most of the homes.

Lack of access to pregnancy information. Most teenagers do not have people who can teach them the impact of pregnancies when they are still young and they end up being pregnant.

Restrictions not implemented for example gatherings and campaigns being open. If a law or directive let it apply universally and not segregatively.

Increased pregnancies and HIV/AIDS is due to lack of awareness. Their fathers, brothers, cousins and many others are impregnating most of them.
Community members are willing to take vaccines though others are refusing to take but health workers are reaching in communities for those ones who cannot move to health centres to take vaccines.
4.0. Achievements
Collaboration and continuous engagement between State and non-state actors on Health and Human Rights issues was established and actors related to the health system encouraged addressing power imbalances that affect people's health.
Ensuring healthy lives and promoting well-being for all ages was emphasised and it is to be measured on achieving universal access to quality essential health-care services and medicines including vaccines.
The wider partner community and non-state actors committed to working towards the increase and promotion of better health service delivery. The project also linked with platforms such as the Civil Society Organisations (CSOs), which comprise the Rights & Policy Change Advocates and with the aim of promoting government transparency in the promotion of Social Economic Development.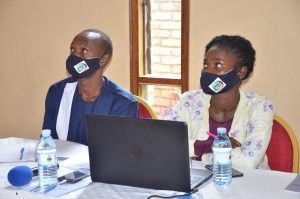 Ensuring inclusive and equitable quality education and promote lifelong learning opportunities for all which should be translating into ensuring all have access to quality primary and secondary education. However, we are facing an education crisis worldwide.
5.0. Challenges
There were some Technical Challenges at the start of the Dialogue but were later solved and this gave the participants a smooth discussion.
There were several challenges identified too on the issue of social accountability and governance in Health during the COVID-19 Pandemic and the identified ones included among others
Communities holding rumors of COVID -19 for instance that the vaccine leads to infertility.

Fearing to go for vaccination because of side effects, which were feared, dangerous.

Beliefs about the vaccination that after the vaccination, there would be death in two years.

People putting on masks just because they want to pass roadblocks.

Fear of contracting the disease especially the health workers

Closure of schools and churches as teenagers used to get the information from the senior women at school'

Unawareness of parents to be home for two years and children now being seen as a burden in most of the homes.

Lack of access to pregnancy information. Most of the teenagers do not have people who can teach them the impacts of pregnancies when they are still young and they end up being pregnant.

Restrictions not implemented for example gatherings and campaigns being open. If a law or directive let it apply universally without segregating against any one.

Poor working conditions adversely affecting health service delivery especially when say protective gear is conspicuously absent

Support supervision with its satellite subsistence allowance dimmed. This makes health services look good from far  but far from good

Hard to reach areas ought to be embellished; they should be made attractive by commensurate enumeration.

Corruption can easily compromise meritorious appraisals of health workers. This is extremely lethal to motivation.

Responses did not respond as expected that is why social media was used to bring health awareness to the people in order to improve on their lives.

Transport for the sick was lacking.

Irresponsible use of social media or regular media, which gives the health workers, bias on the community.

Misuse of SOPs, social distances .we should learn from the experience of HIV/AIDS and having majority of people vaccinated is the key

 
6.0. Lessons learnt and innovations
The government should emphasize sensitizing the parents and teachers about the rights to education urging that weather pregnant or not, the girl child has the right to decide on her future by getting access to education. Therefore, parents should sit down and talk to their children about the dangers of being pregnant at an early age
The government should engage the school administrators both in public and private institutions to ensure that there are not existing regulations that could be used to deny access to education for teenage mothers and girls that will be pregnant by January 2022 when schools are reopened and should be protected from stigma and discrimination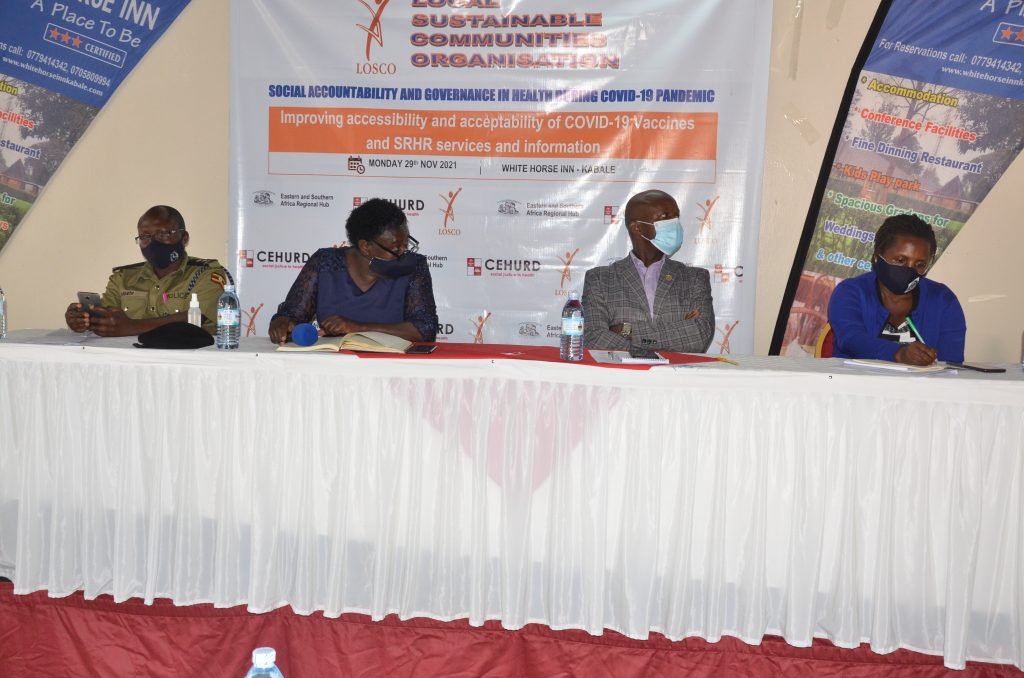 A human Rights Based approach is about health not isolated pathologies; it is premised upon empowering populations to claim their rights and not merely avoiding mortality or morbidity. Express recognition of the right to health including a comprehensive understanding of sexual and reproductive health in constitutions and legislation together with accountability mechanisms for the vindication of health rights is essential to a rights based approach.
The design, organisation, and coordination of the components of the health system should be guided by fundamental human Rights principles including non-discrimination/equity, transparency, participation, and Accountability.
As the Uganda Human Rights Defenders, we have a function to receive and investigate complaints that are related to human rights violations and when it comes to violations around social justice and governance in health, we received a lot and are investigating them.
7.0. Next Steps
Continuous engagement with State Health actors because guaranteeing the right to health requires the State as a core obligation to adopt a national public health strategy and plan of action (national Plan) This coordinated with subnational plans must comprehensively cover the health needs of the entire population, clearly identifying responsible actors in various contexts and establishing accountability mechanisms.
If possible, LOSCO in Partnership with CEHURD and COPASAH would facilitate a sexual and reproductive health strategy encompassing maternal health reflecting the pivotal importance of sexual and reproductive health and follow best practices.
Continuous advocacy on the National plan and Policies linked to it based on up to date situational analysis of sexual reproductive health and rights informed by suitably disaggregated data and trends as well as vital registration.
Do a study to understand which population groups are deprived of access on a broader perspective and determining the reasons behind that deprivation at both the National and subnational levels using Human rights based approach. Men have been left in the Background and this has totally hampered the progress in SRHR processes and so is the time to bring them on board.
Laws should be reviewed especially the Prevention and Control of HIV and AIDS Act to ensure it complies with human rights standards, budgetary allocations to the health sector should be increased, the constitution should be reviewed to ensure that the right to health is provided for in the Bill of Rights for better health, human rights and SRHR
Compiled by:                                 

Approved by:                              

Submitted to:

Name: IRAHARI GRACE

Name: TAREMWA ALBERT

Name: Muhumuza Abdulkharim

 

Position: PROGRAMS MANAGER

Position: Executive Director

Position: Regional Coordinator, COPASAH

Organization: Local Sustainable Communities Organisation (LOSCO)

Organization: Local Sustainable communities organisation (LOSCO)

Organization: CEHURD

 

 
 

Date: 02/12/2021

Date: 02/12/2021

Date: