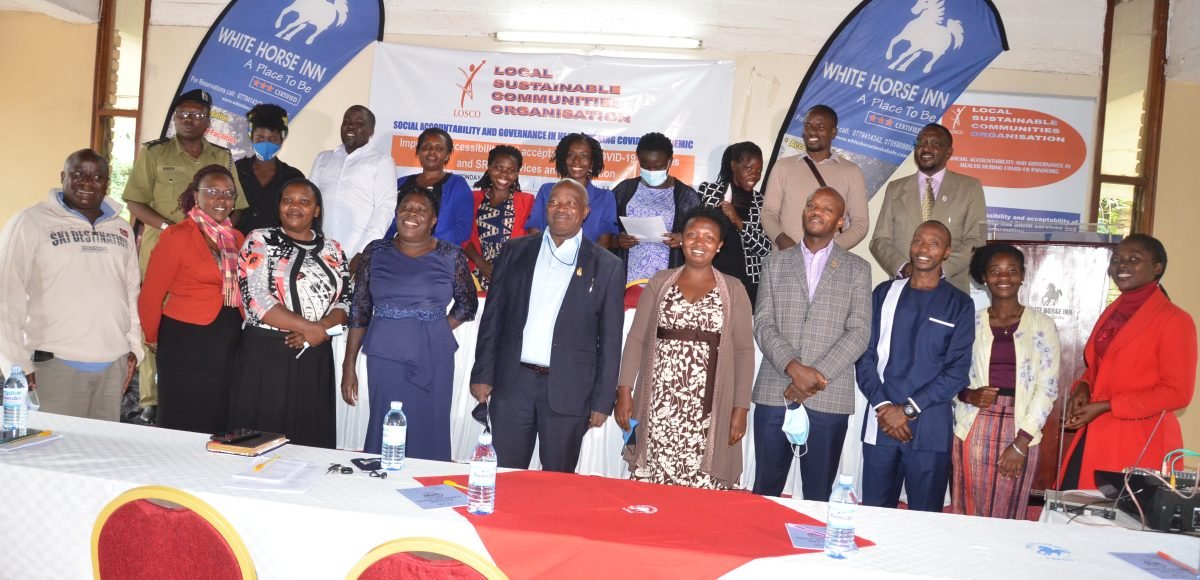 STATEMENT ON IMPROVING ACCESSIBILITY AND ACCEPTABILITY OF COVID-19 VACCINES AND SRHR INFORMATION & SERVICES DURING THE COVID-19 PANDEMIC.
For Immediate Release
STATEMENT ON IMPROVING ACCESSIBILITY AND ACCEPTABILITY OF COVID-19 VACCINES AND SRHR INFORMATION & SERVICES DURING THE COVID-19 PANDEMIC.
(Kabale 3rd December 2021) Kigezi is among the regions that have been badly hit and affected by the COVID-19 Pandemic with effects resulting to health and human rights violations and issues related to accessibility and acceptability of COVID-19 vaccines. Recently the Ministry of Health launched a massive vaccination campaign in Kabale having seen it as a Hot Spot in the country.
LOSCO in partnership with CEHURD under the COPASAH East and Southern Africa Regional Hub organised a Dialogue on Governance and Social Accountability in Health during COVID-19 Pandemic intended to generate consensus on social accountability and governance aspects of health and human rights.
Now that we have vaccines, the message is different. It is all those above the age of 18 to come forward and get vaccinated. I command the RDCs to use the local radios to guide the vaccination efforts said the President of the Republic of Uganda H.E Yoweri Kaguta Museveni on his recent Address to the Nation.
In the whole world, Uganda Government is one of the governments that have kept children out of school the longest- two years at that due to COVID-19 and as a result teenage pregnancies have been the highest, they have been escalated during the pandemic, and we continue to see a surge in the numbers. Teenage pregnancies increased at an alarming rate hitting a maximum high of 2,628 in Kabale alone as of October 9 2021, currently in Kigezi Sub Region, According to records from the probation office, more than 7,000 underage girls have been impregnated in the six districts of the Kigezi region during the COVID-19 lockdown. Kanungu has registered 1,401 cases, 71 in Rukiga, 76 in Kisoro and 1,159 in Rubanda.
As the Uganda Human Rights Defenders, we have a function to receive and advocate issues that are related to human rights violations and when it comes to violations around social justice and governance in health, we received a lot and are following them up which include among others;
• Corruption can easily compromise meritorious appraisals of health workers. This is extremely lethal to motivation.
• Responses did not work as expected that is why social media was used to bring health awareness to the people in order to improve on their lives.
• Misuse of SOPs, social distances. We should learn from the experience of HIV/AIDS and having majority of people vaccinated is the key
  We therefore recommend that:
1.      The  president  expeditiously assents to the National Health Insurance Scheme law to ensure improved access to health care by the poor and vulnerable groups in Uganda
 2.      The government through the ministry of Education engages the school administrators both in public and private institutions to ensure that there are not existing regulations that could be used to deny access to education for teenage mothers and girls that will be pregnant by January 2022 when schools are reopened and should be protected from stigma and discrimination.
3.      Ministry of Health continues to raise awareness and promote vaccine equity among the populations through social mobilization and accountability by citizens and good governance in health that are rights based approaches
For more information, please contact:
Mr. Taremwa Albert – Executive Director – LOSCO – +256772935100 consultalbert@gmail.com
Ms. Irahari Grace – Programs Manager – LOSCO – +256784665522 iraharig@gmail.com