DESPITE ITS FINE WEATHER AND HILLS WITH GREEN VIEW, KABALE LACKS CLEAN WATER
Litres of water still flow from precious streams, but warm air in Kabale these days is raising concern over how long the green hills that make scenery similar to most of Switzerland outside Africa will continue to water homes, fields and livestock in the south-western district of Uganda.
Uganda and its counterparts in the Nile basin are involved in such activities as constructing small water supply systems to collect this water, clean it, and ease its access for residents, but little else to control activities known to contribute to climate change like deforestation.
If the greenery on Kabale hills is erased, and the water catchment is degraded to the extent where less water flows from the hills, the effect will be felt on River Nile.[/caption]
This assertion is based on scientific findings that water from these hills feed R. Kiruruma, which flows to Kagera River, known to be one of the main tributaries of R. Nile.
The consequences of climate change here, are feared to translate into water stress for a district that currently boasts abundance, even though from time immemorial most residents in Kabale walk for miles to fetch water due to failures in water reservation.
This means that when water that is currently available by nature reduces, Kabale is headed for tougher times ahead.
On a Sunday evening, crowds of people are making their way to the stadium for a football match, and despite the chilly weather and drizzle, only a few fans are clad in warm clothing, something that was rarely seen some five years ago— it was simply very cold with temperatures below 10 degrees centigrade and fog so thick to see anything a few metres away.
Indeed Kabale was dubbed the Switzerland of Africa for two reasons: Cold weather and hilly landscape, but with a warming climate. That comparison now refers to the topology only.
People in Kabale grow potatoes, fruits and vegetables like cabbages and cucumber, the reason why the government thought of introducing high-income earning fruits like apples to be grown there on a commercial scale.
Additionally, sociologists have blamed the cold weather for ensuring that Kabale has the highest population density in the country. Having a family of 10 on proper planning hinged on resources available for their survival including a substantial acreage of land and business at the Katuna town.
Kabale is one place that has the most pronounced evidence of climate change in the Nile basin let alone Uganda, said Taremwa Albert – Executive Director -LOSCO.
"People now move without jackets, and on some days the sun rises and sets before it rains, it was never like this," he said.
As one of the ways to make better use of water that has been going to waste, the Nile Basin Initiative (NBI) developed a water system that captures water from the hills, passes it through sedimentation tanks, and stores in a 45,000-litre reservoir.
NBI is an inter-governmental alliance of countries in the Nile basin that implements projects agreed upon to improve welfare of the basin's residents.
The system that has two water kiosks with five outlet taps each is designed to serve 5,000 people in Katuna Township.
However, this scheme benefits mainly the town residents downhill, although those who live near the source in the hills have an outlet where they can draw water from.
Uphill residents who do not live near any source, have to go downhill to fetch water, never mind that it rains almost every day, although is left to flow down and into the swamps.
Aloysius Nuwagaba, a resident from the hills, asserts that his wife and children spend at least four hours a day fetching water, and like many people sometimes, get it from swamps and use it to the detriment of their health.
What would be the sustainable solution for families living uphill without a water source in their proximity is harvesting rain water.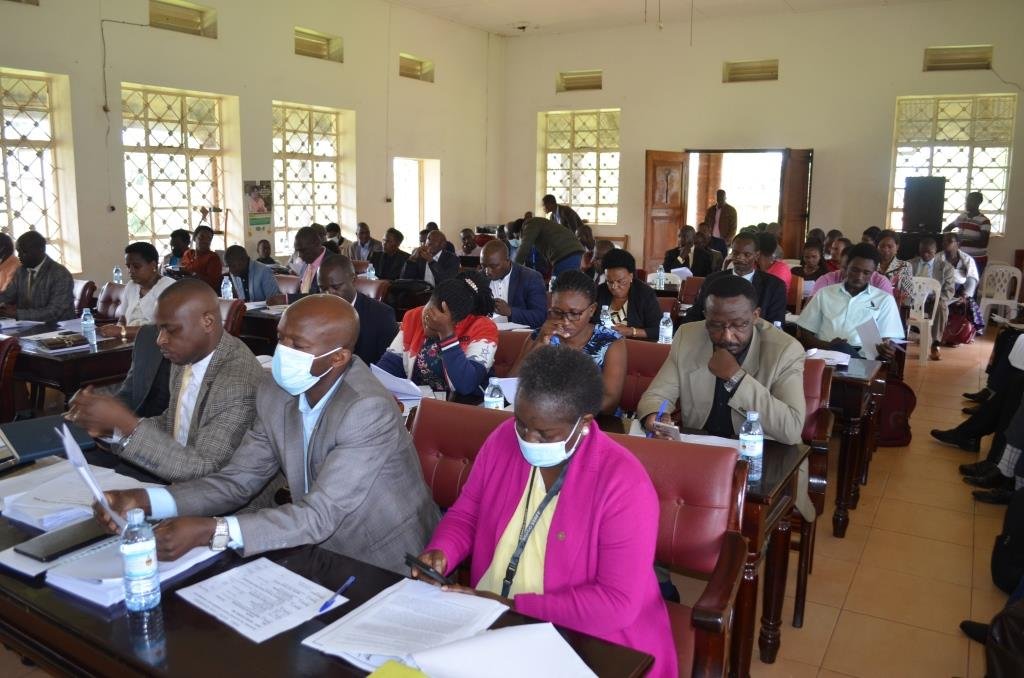 The government will not afford pumping water uphill for years to come, the reason why they opted for a water system like Katuna's that does not require any energy as it collects gravitational water and channels it downhill through pipes.
Rain water harvesting only requires a tank and a roof that is made from non-corrosive material.  This saves people time they would have otherwise used to go downhill and fetch water. 
The family can then spend more time in the fields, or shops where they can be more productive in generating income.
However, if the government and its counterparts in the Nile basin only focus on improving access to the available water, and forget rehabilitating the catchment area, the shortsightedness will cost places like Kabale undergoing climate change when amounts of that water begin to reduce.
Swamp encroachment
As one heads out of Kabale town towards L. Bunyonyi, one notices the swamps that protect the lake have been encroached upon with hotels, churches and residential houses coming up at the shores.
Unlike Ntungamo and Mbarara districts where people keep cattle, in Kabale people do more cultivation than animal farming, which exposes the soils on the hills there, making them more vulnerable to climate change.
Indeed the hills in Ntungamo, also called the Rwampara hills are greener and more beautiful to the eye than those in Kabale punctured with terraces for cultivation.