USAID -UGANDA CIVIL SOCIETY STRENGTHENING ACTIVITY NATIONAL CONFERENCE
USAID/UGANDA CIVIL SOCIETY STRENGTHENING ACTIVITY NATIONAL CONFERENCE
ON VIBRANCY –
–    Support the CSOs reach out being a component of the state.
– Enhance the legitimacy of the sector
– CSOs advocating for New Laws and policy and also helping in the Education Sector…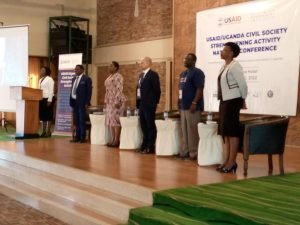 –   Hand in hand to improve the state Transparency and accountability.
– Respond to the rights of Ugandans
CSO REGULATION
–The Government has introduced a number of Laws to regulate the CSO sector
– The government must be in position to support these groups.
–CSOs also must be transparent and accountable
CSO PARTNERSHIPS
–       Partnerships and Networks are essential to the work of CSOs
–       Working together with other private sector and Government CSOs can benefit a lot.
Hon. Nobert Mao – The President for Democratic Party and the Minister for Justice and Constitutional Affairs had something to say that;
God only gave 10 commandments BUT the state has given a lot. Political parties are part of the CSOs until they get into power and forget they were part of the move. Many people in this country need our voices and have been forgotten. It's important to unpack the complex terms and concepts used in Civil Society.
Local people need to understand these terms and ensure the concepts are result based.
"At the Time I was in the CSO sector as a Struggling Lawyer, I was not only the lone applicant for the job but also was paid only US$ 350 for the first salary"
The National Powers are also threatened by Multinational powers. Power is Power but changes in form. Change comes with friction and there is no way you can avoid it. Continue pushing back against the unhealthy friction.
The chair of the Human Rights Committee MUST be an Opposition Person. The State must be responsible for the decisions made. We can all be part of the Problem or the solution. No problem can be solved without facing it.
The OWL told a Frog that I deal with Broad issues and Details are yours. There is a difference between Being Concerned and being involved. CSOs must be graduating to this aspect where they are more involved in the issues that affect the communities.
HON. NEEMA LUGANGIRA, Mp (Tanzania) representing CSOs in Parliament.
The Special Seats include CSOs.
Civic Space trends…. Need to be vibrant and it's important to understand that the rule of law is not suffocating the space.
Issues of Concern from CSOs
1.    Human Rights- Freedom of Speech – there is a tendency of people using their freedom of speech to hinder other people from using the same. It is possible that when defending the rights of others, some categories are not considered.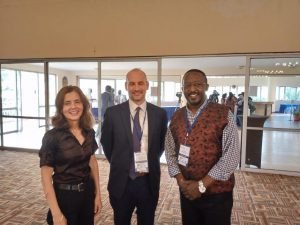 2.    Democratic Development, Transparency, and Digital Media – How are they contract with the shrinking space.
 Women and Youth Empowerment. Making sure there is inclusion at all levels, legal aid, litigation and Journalists.
On the other side:
Governments raise on CSOs issues of.
1-    Accountability – Money received, Annual Reports, – be compliant and leave no rome to be hurled against.
2-    Its Important to have good Partnerships and engagements with the MPs for them to understand the work.
3-    Digital world is a one most people are not well conversant with. Digital Democracy is an Area of Interest, Digital Rights,
POSITIVE TRENDS IN TZ
Creating a conducive environment for Civic Operations especially adhering to the legal requirements by the President.
Political Harmonisation especially with political Parties.
Committee for review and reform security policies.
Lifting ban on all media houses.
Political will towards improving the Rule of Law, Human Rights and Democracy.
There is need to have closer collaborations in Ug and TZ, CSOs in UG & MPs in Uganda among others.
Civic Space is about issues that matter to people.
We should never expect to have a completely enabling environment because Civic Space has been Shrinking for decades. The contestation has been Power in people and People in Power.
The framework used by CIVICUS civic space Monitor. This assesses countries around five parameters of civic Space – Repressed space (Significantly constrained, activists targeted and imprisoned, internet surveillance is common, repression is also by the behaviour in civil society), Narrowed Space (Allows some freedoms some freedoms but with certain controls, media is controlled), Open Space (Support and Freedom from Government, Freedom to demonstrate, Tolerance), Obstracted (Civic actors are allowed operate but are heavily controlled, legitimized) and Closed (No Civic Activity in Place).
Examples considered
Open Civic – Africa has non but there is Finland, Sweden, Norway.
Narrowed – Ghana and Namibia
Obstracted – SA, Namibia
Repressed – Tanzania, DRC, Rwanda,
Closed – Burundi and Southern Sudan
Uganda has a Hybrid nature of Political System.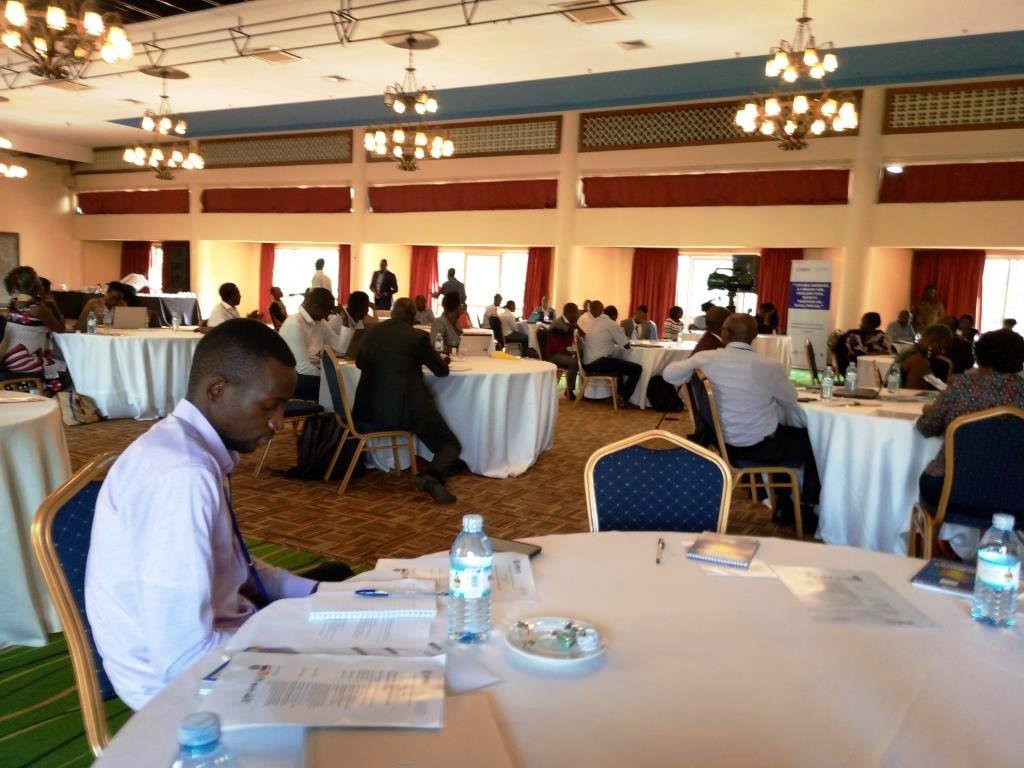 The foundation of Laws governing CSOs in Uganda are premised on Mistrust and Distrust.
The people who put in the foundation are pretty much still there.
The kind of violence defining election systems is unbelievable.
HOWEVER;
–       The sheer resilience needs to be lauded.
–       Celebrate CSOs that have pushed back.
–   CSOs have been sometimes defiant. Do not wait for laws but reject repressive laws.
– Celebrate NGOs that are adaptive and Innovative.
We can agonize and blend people – the route must be through Dialogue and get involved in a national conversation.
The NGO Bureau is playing a punitive role than the supporting role.
–   They are bending more to the side of repression.
–       UHRC is not doing much to maintain the space.
However CSOs can:
–  CSOs can champion the Dialogue.
–       In terms of response, people react differently e.g Dialogue.
–       There has been also legal compliance e.g from FIA.
–       Innovative programming
What has been done
–       Strengthened relationships with different state actors in sharing information, technical abilities and the rest.
 Evidence based advocacy…..
–       Working as a Coalition
–       To Build resilience is also strengthened through community engagements for sustainability.
–Investment in human resources – beyond the ED, who still stands out??
–       Sustainability of Programs
–       Diversify funding.
–       Building capacity of other players involved in Civic Space.
–       Involve in legislative agenda – be more proactive.
Opportunities
–       The Law is on the side of CSOs.
–       Quarterly dialogues with the ministry of internal affairs
–       Government allies – power mapping
–       Move beyond boarders and engage with friends dealing with the same issues.
–       Today could be me and tomorrow could be you…..
COMMENT FROM LOSCO
Not all Hope is Lost and Job 14:7 For there is hope of a tree, if it be cut down, that it will sprout again, and that the tender branch thereof will not cease. 
LOSCO intentionally reached out to State actors for alliances and the reception was overwhelming to the extent that they now invite us to speak to them about Human Rights. That is Police, NGO Bureau, UHRC, Prisons among others.
Is it Possible for the Bureau to play a role in Resource Mobilisation?
It's understood of the regionalization of NGO Bureau Offices but would you kindly enlighten us on the timeline so the weight is reduced on the Central Office?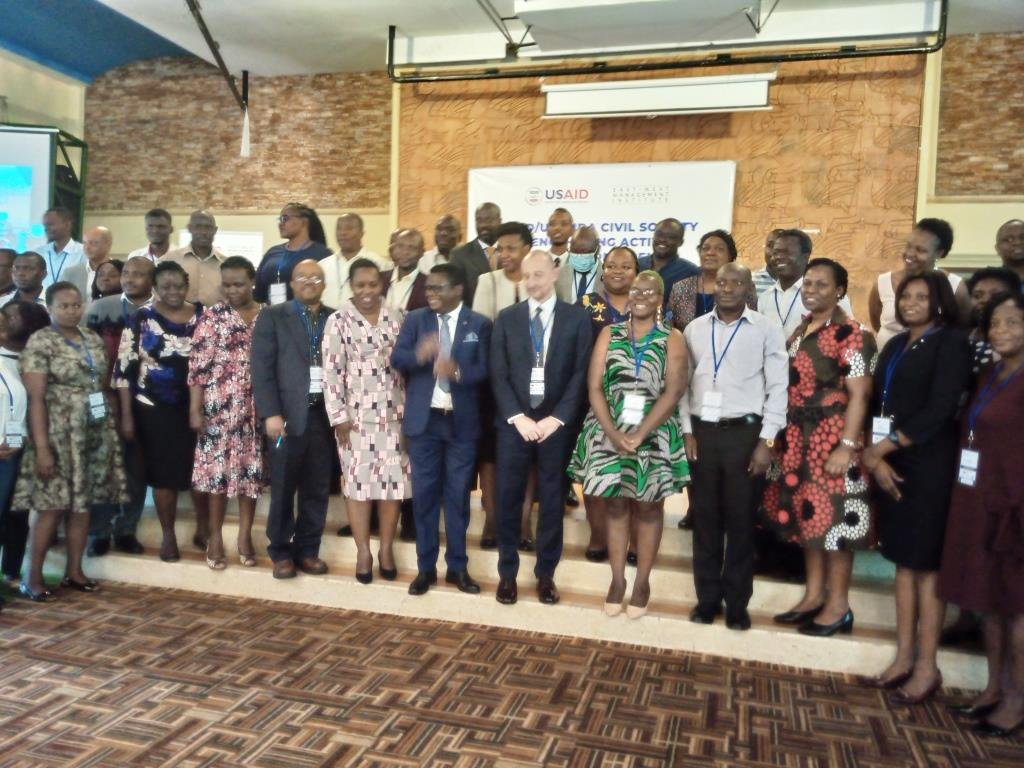 Recommendations
The need to Harmonise the MOU and the Permit…. Because there are challenges as earlier stated with MOUs.
We need to invest in Knowledge and Capacity building for DNMC they always admit that they are also constrained by the fact that most of their officers are limited in capacity. That we can take advantage of this Opportunity. A Sustainability aspect to programming.
Having Dialogues is fine but we need to appreciate the diversity in the regions. It would be possible to have sub National Dialogues just to have conversations in diverse contexts to better understand and appreciate the diverse challenges and opportunities for different NGO's.
NGO Act 2016
·         Operating with an Expired Permit.
·         Consent for changes on the operating documents.
·         Each time you need to review, Notify the Bureau.
·         Failure to file returns
·         Notify the bureau when closing the operations.
·         Failure to operate with the internal governance systems.
·         MOU with line ministries and local governments
·         NGO regulatory framework does not only entail NGO Act but also AML/CFT Laws, Employment.
Obligations for NGOs to
·         Grant permission for inspection. Section 45
·         Avail correct information – Section 45
·         Operate with the Districts in those districts.
·         Pay attention to security and other laws in the country
·         Interest of the country
·         Non Partisan – but civic education, electoral monitoring are allowed.
·         MOUs with other stakeholders.
·         Operations must be through the organisations with who you have the MOU
·         Free to voluntary close
 How to increase compliance
–     You have to be registered
–     Renew the permits in time
–    Ensure you are filing returns
– Maintain collaboration and coordination with the MDAs involved.
ANY TIME
–  You can appeal to NGO bureau ins case of dissatisfaction
–  And can also be to an adjudication committee
–       And also go to High Court.
NGO BUREAU ACKNOWLEDGES that
–       Financial Challenges – a lot has to be done on sustainability
–       Competition – Among the NGOs themselves
–       Level of Effectiveness.
–      Technological advancement
NGOs Can
–       Collaborate and have more dialogue with NGO Bureau
–       More information sharing
– Keep mapping out and profiling the country contribution.
–  Keep building capacity for different stakeholders.
It's a shared responsibility for compliance to be attained. This will enhance accountability, transparency, trust. Appreciate the competence.
RECOMMENDATIONS
–       One Stop Centre for Registration
–       Regionalize the Monitoring Committees to mitigate the funding gaps
–       One Stop Centre for Filing Returns
–       NGOs Comply with the legal framework as is
–       Do filing on a consistent basis.
FROM Sydney – FIA ED
Recommendation 8 requires that the laws and regulations that govern non-profit organisations be reviewed so that these organisations cannot be abused for the financing of terrorism. Thus, there are unintended consequences that will be avoided.
NGOs have been categorised are reporting entities but there are provisions in the standards to include them. The Law was enacted in 1999 when there were few NGOs and No Space to Shrink. Sydney – ED FIA
FROM PANEL DISCUSSION,
How do we influence the communities?
Be;
1.    Be Transparent,
2.    Be accountable
3.    Build Trust
Building trust is a long time investment and cannot be broken simply.
There is also need for Mindset Change in our spheres.
We Need to Pay Attention to:
1.    Tell your Story – what impact you are making at the grassroots. Have voices,
2.    Intentionally work with Private Sector because we develop a business mindset – building social enterprise for income generation
3.    Leadership – nurture and develop the future leaders. Create transitions that work. Systems that speak to themselves. Build a Team around you!!
4.    Digital Acceleration – pick up the pieces and match the standards. Tap into the CRYPTO Donors!
HOW DO WE BUILD SUSTAINABILITY?
·         Sustain
·         Ability
The starting point is on the mindset change. The sector is in the same storm using different boats. How to get out would be through coming together and navigate out of the financial starvation.
Look also at:
1.    Agility to context. Be able to program with the context in mind
2.    Integrity to Purpose – Don't preach water and Drink Wine. Stewardship.
3.    Equity to partnerships – Deconstruct the narrative of mistrust.
4.    Collaboration – Coming together.
There is also a push back of the shift to the power movement. They need to rethink of the Country Office Models.
 ON Partnerships
CSOs need each other and State Actors….
We took the Opportunity to receive the Commission in Kigezi for the New Office opened there under the leadership of Madam Twembi Theopista. We have enjoyed so far a very warm working relationship. We sit and plan together on the way forward and move together. We are yet to formalize our marriage or sorry Partnership. That's a simple Example!
Much as it's a recommendable step towards making impact as no man or Organisation is an Island, CSOs still have an element of internal Competition for Space, resources, visibility among others. CSOs soil each other before the funding agencies and remember Funders speak to each other and also share information. Would you kindly speak to the internal rifts among CSOs that are breaking there unity and development trends? Instead of supporting one another, we are among the greatest armies that finish themselves.
We don't trust each other both internally and externally.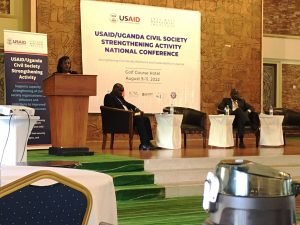 FROM UHRC
·         Can we share Ideas and change a thing or two? Expand and change the strategy.
·         MDAs are Partners and not Adversaries.
·         CSOs are elbowing each other yet there is space for everyone.
·         Identify the partnership and follow it up. Identify the people that are doing the job and move together.
·         How do you communicate:
·         Among the tools, MOUs, Agreements, Correspondences, partnership committees among others.
·         Good citizens that don't care make bad Laws.
·         Build our capacity.
·         Walk the talk.
·         Don't be confrontational
By Commissioner in charge of Communication
We are not engaging Article 18
·         Let's be proactive in the engagements.
·         EDs to the Authorities are the contact persons and the CEO for the Ministry of Information and ICT.
·         Coordinates the Media. Ministry delegates UCC, NITA-U, Posta Uganda, Regulatory Bodies as Government Agencies.
·         346 Radios in Uganda.
· Have MOUs with the Government Agencies.
· Collaborate Digital Technology.
·         Trainings and Capacity Building.
·         Public Engagements with Government
·      Joint resource mobilisation.