ACCOUNTABILITY, ANTI CORRUPTION & PUBLIC PROCUREMENT
ACCOUNTABILITY, ANTI CORRUPTION & PUBLIC PROCUREMENT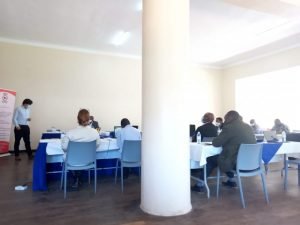 Accountability is equated to Answerability. Corruption – Abuse of Public Office for Private gain which is Abuse of Entrusted power for personal gain. The Anti-Corruption work is not a friendly aspect of the fight. It's not a simple war and will always be a challenge. The weak and the poor also have their rights. They need to be protected and fought for to gain from the Service delivery from the Government entities. LOSCO participated in a PPDA Training in Partnership with KICK-U, GIZ-SAC and PPDA Authority at White Horse Inn- Kabale
The need to fight Corruption deserves consistence and research to bring out the issues with facts. The need for emphasis on partnership between CSOs and Local Government. Trade information in the right way. It takes courage and work smart to fight corruption. Build working relationships between State and Non State Actors because that brings strength to the people in demanding for accountability and good Governance – EINAR – GIZ-SAC
Cost of corruption in Uganda
–           Access to safe water to 100% of the population
–           Build Atleast 6 referral Hospitals for improved basic health care
–           Put up a power dam of 600mw for electricity supply
–           Better salary payments to striking judiciary
–           Construct over 360 classroom blocks for learning environment improvement
–           Construct tarmac road to link the target part to market centres among others.
Rotten, corrupt, wasteful, abusive, incompetent governance is the fundamental bane of development. Unless we improve governance, we cannot foster development.
It offers key questions as starting points for data gathering and discussion in a three-stage
process:
Defining the nature and extent of the problem—This stage enhances assessment of the problem within the context of the four principal risks. It helps determine which risks are the most serious, and how risk factors inter-relate. The nature and extent of the problem will dictate the kinds of interventions with the highest potential for success.
Identifying key actors and allies—this stage provides assessment of the players who are, or could be, the advocates or champions for Anti-Corruption. Possible key actors and allies are civil society, media, and reform-minded politicians and Agencies. These groups work on their own and together. It is critical to know who the advocates are or might be, what they can or could do, and what kinds of strategic alliances among them can advance Anti-Corruption.
3. Identifying the legal framework and practice—this stage provides for not only laws and regulations that are on the books, but also of the realities reflecting compliance and enforcement. It helps identify the nexus between policy and practice as well as the incentives and disincentives the legal infrastructure creates for duty bearers and rights Holders.
-Transparency – Display on Notice boardProcurement & Disposal System principles.
-Accountability – internal Controls – segregation of roles and responsibilities
-Fairness and Nondiscrimination – No due restrictions
-Competition – open bidding, standardization
-Confidentiality – tenders kept in safe and secure environment
-Value for Money – Economy and Efficiency (Before, During and After)
-Efficiency – Time, process, honesty…
-Ethics – enforcement of ethical code of conduct
(Specifications, BOQs and TORs) to serve the needs of the people.
Institutional Framework
1)Ministry of Finance, Planning and Economic Development (MoFPED)
2)Public Procurement and Disposal of Assets Authority (PPDA)
3)Procurement & Disposal Entity(PDE)
4)Accounting Officer – Contracts Committee – Evaluation Committee – (Procurement & Disposal Unit) -PDU
Challenges in PPDA
-Collusion
-Forgery of documents by Contractors
-Signing contracts
-Payment before the completion of works
-Soliciting and taking of Bribes
-Prolonged procurement processes
-Lack of confidentiality leading to leaking of information
-Failing bidders on non-material issues
-Inadequate capacity of local process
-False accounting systems
-Political influence
-Poor record keeping
-Poor contract management
-Failure to take action on audit recommendations
Recommendations
-Further utilization of ICT through E-learning & e-procurement
-Strengthening of the government tender portal
-Promotion of preference and reservation schemes
-Amendment of the Act on PPDA 2003 for the current trends and demands.
"Where does the information reside concerning the faulty contracts and the monitoring issues raised for the issues of Transparency"