A CORPORATE VISIT AT THE KABALE CENTRAL POLICE STATION AS PART OF LOSCO's PARTNERSHIP RESPONSIBILITY
As LOSCO reached out to the frontline defenders; the Uganda Police Force at Kabale Police Station, following up the recent workshop conducted in partnership with HRCU, Some IEC materials with Human Rights Messages together with Personal protective equipment (PPE) were shared with the Regional Police Commander SSP Saiga Ibrahim, Regional PRO Elly Maate, The Kabale District Police Commander Ruganza Abel and OC Station Akanyijuka together with other Officers on Duty. This was in a bid to support in protecting them from COVID-19 infections since they receive different clients with in their premises.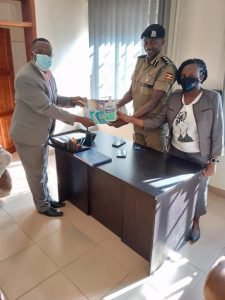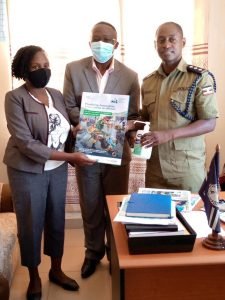 In our Discussions, we realised that partnership and collaboration with State Agencies and Actors in different aspects of Human Rights will play a major role in ensuring that Human Rights in Kigezi Sub Region are Promoted, Protected, and Fulfilled. This would be realised through consistent engagements, trainings and other avenues where messages are shared on the role of Duty bearers and Rights Holders in a sense of promoting development.
LOSCO will continue to engage the relevant stakeholders including the Education and Academic Institutions in the fight against Human Rights Violations and Abuses. Partnership and collaboration with our different stakeholders will go a long way to ensure this is rightfully achieved.